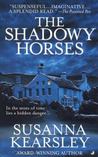 The Shadowy Horses by Susanna Kearsley
My rating: 5 of 5 stars
Verity Gray, an archeologist, is invited to participate in a dig on the borders of Scotland, directed by a nearly legendary, though eccentric, archeologist, who believes he may have found the final resting pace of the lost Ninth Legion.
The characters include the leader of the dig, Verity's former lover, a little boy who has psychic gifts, some of the local Scots (all presented beautifully) and a Roman officer who is known as 'the Sentinel'. The little boy can see the Roman and speak with him. The others can only perceive changes in the temperature near them (view spoiler)[and, in the case of one ill-behaved fellow who tried to bully Verity, the effect of a powerful left hook to his jaw (hide spoiler)].
Kearsley does a very good job laying out the story, bringing it from the quiet beginning of Verity's work at the site to its final crescendo and resolution. She also does a good job of following the activities of an archaeological dig in full operation. Characters are well handled, and you find yourself liking Verity, Dave, Robbie (the child) and the Sentinel. Loose ends are tied up satisfactorily, and while we don't have proof that the Legio IX Hispana is actually there, the books ends with a strong impression.
I do have one or two quibbles. While British sang-froid (or, perhaps, UK sang-froid) is legendary, I have a little trouble believing that all of the staff at the dig stayed there after several events. Another issue is the title of the book. 'The Shadowy Horses' is taken from a poem by Yeats: He Bids His Beloved Be At Peace. He refers to them as 'the horses of disaster'. The title works well, and the mental image is satisfying… except that there is nothing to correspond to them in the book except for the chapter headings: 'first horse' and 'second horse' and once or twice when Verity seems to hear horses in the night.
I enjoyed this book. The story balanced mystery, romance, memory and discovery very well. I cared about most of the characters, including the Sentinel. The flow of the narrative as compelling and yet not rushed. Things fall together at the end in the best of ways. Even the 'shadowy horses' have their moment.
I give The Shadowy Horses a full five stars. I liked it enough to purchase a hard cover copy for my shelf.